Get the finest quality Event Decor and supplies online made by hand at SoCal Event Decor.
Party planning is not an easy task. At SoCal Event Decor we create beautiful and eye-catching decorations, props, centerpieces and pool floats. Whether you are hosting a baby shower, Sweet 16, adult milestone birthday, kid's birthday party, corporate event, wedding or any other event, with our decor, you can use your creativity to create a spectacular event to remember. Please browse our online collection or give us a call 657-235-8178 for any assistance or support. We do much more than what you see here, you can visit our main website for more ideas and options. www.socaleventdecor.com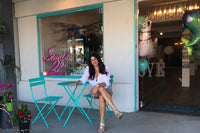 SoCal Event Decor
USA Made Custom Party Decor!
Office:
S Coast Highway Laguna Beach, CA 92651
Production Shop:
2709 S Orange Ave Unit C Santa Ana CA 92707
www.socaleventdecor.com
View all event decor